This article is for those of you who have experience representing their business online and who know what websites are all about..
Whether you have a page representing your business, hosted on free web resources and social platforms like Facebook, or a simple static website which you may have created years ago and it's time to upgrade it, then this information is for you.
You have already decided on a website management system - CMS WordPress.
Why WordPress? According to a recent survey up to 25% of all websites on the Internet are powered by this system.
So you have installed the latest version of WordPress on your server or hosting (even the cheapest one costing only $2 per month will do). Now the only thing left is to choose a beautiful template to get your website up and running.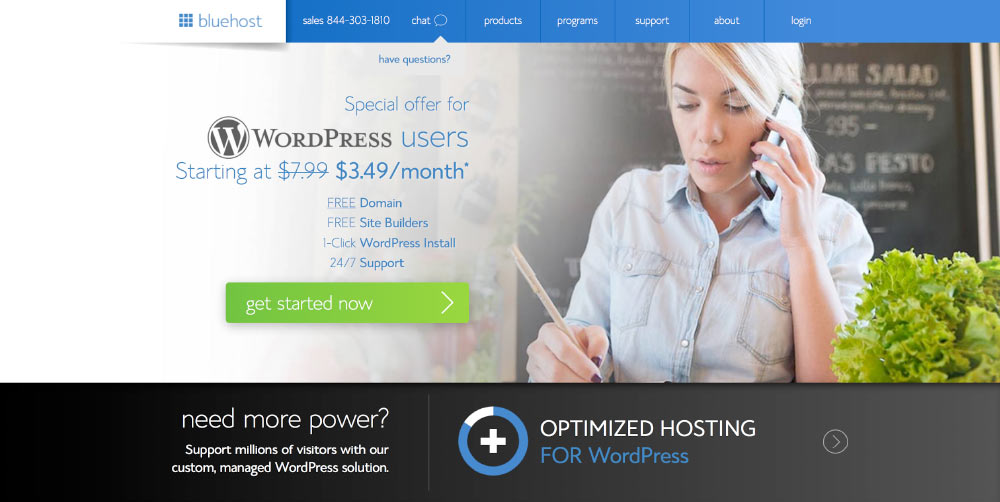 You have two options: download and install a free template or buy a premium one.
Below I will describe all the pros and cons of both strategies.
OK, let's begin with a free template for WordPress
Nowadays the Internet offers more than 8000 free templates with the majority featured on
wordpress.org
.
The rest may be found on a variety of websites that produce their own premium templates. They offer many free versions of their premium templates as well. As a rule these versions (LIGHT or BASE) have a limited functionality.
Usually most of the free themes have basic functionality, plain design and a limited number of plugins.
With a few exceptions, there are some decent, good-looking themes created by top design studios which have been in the theme market for years and have garnered recognition for their creations.
Here are some of them:
Themeisle.com
Athemes.com
Colorlib.com
Woocommerce.com
Themegrill.com
Mageewp.com
Andersnoren.se
The rest you can easily find in Google by yourself.
So how do you choose the best theme for your website from this vast assortment of free templates?
I'd recommend that you focus on four main criteriа: design, usability, support and security.
Now it's time to discuss each criterion separately.
Design
If you wish to impress your customers, then your website design must be modern, sleek and clean.
To find lots of web design inspiration and check the latest trends, visit WEBSITE AWARDS. They gather the most attractive designs from all over the Internet and get web design experts to vote for their favourites, sorting out the best examples.
Here are some of those resources:
Thefwa.com
Cssdesignawards.com
Thebestdesigns.com
Csswinner.com
Such modern technologies, like CSS3/HTML5, allow the creation of flash websites and animation of certain blocks and elements which are very popular in web design now.
But personally, I don't recommend using themes overloaded with more than 3 animated elements.
Too much animation overloads the computer processor and those visitors with old software will encounter problems with displaying your website and the slow-down of the browser speed.
Usability
Good website usability is the key to website development these days. It means your website needs to be as easy as possible to maneuver around so the visitor can quickly find the information for which he or she is looking.
For example, the so-called hamburger menu has become extremely popular in web design today. The Hamburger menu consists of three horizontal lines you can often see at the top of many modern sites, either on the far left or on the far right. I do not personally recommend using this navicon as older people sometimes get confused and may not even click on it to see the whole menu.
Regarding website usability, stick to the Golden Rule - the less time your users spend clicking around, the easier it is for them to find the information they need.
Another "must follow" requirement in web development is Responsivity. Responsive design means your website will look great on any device including mobile phones, tablets and even smart TVs (smart watches are on their way too!)
To check your website responsivity, use this resource http://design.google.com/resizer/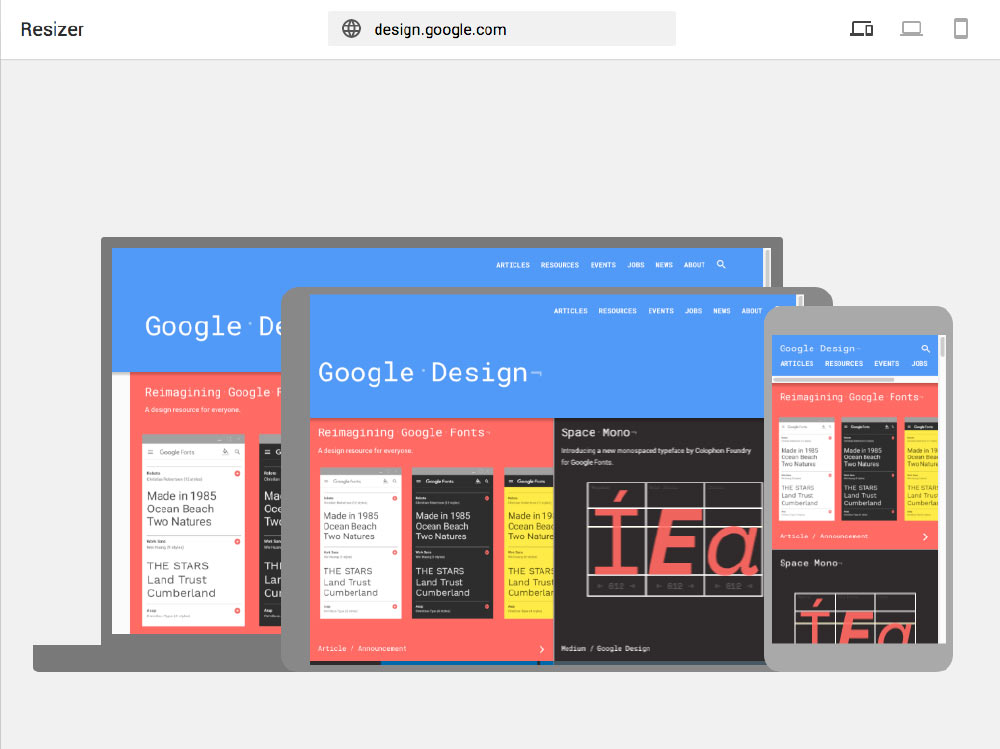 Support
Customer service is another extremely important factor influencing your website safety and security as well.
Pay attention to the following criteria:
How often the developer responds to customers' enquiries on the WordPress forum
If the developer has his own personal website
If the developer has a forum with open access on his website
In case there is no forum, make sure they have at least a feedback contact form
How often is the theme updated and how frequent are there new developer releases? (You can find this information in the theme's page Activity Log on wordpress.org or on the developer's website directly)
If the theme has child themes, then how many sub-themes have been created on its base
Apart from that, make sure that your free theme has a premium version, so you could easily upgrade your site in the event that you need to extend the functionality and add some new features to your existing website without having to change the current design. With little extra cost you'll get an extended version with lots of useful updates which would cost you much more if you order the refinement from freelancers.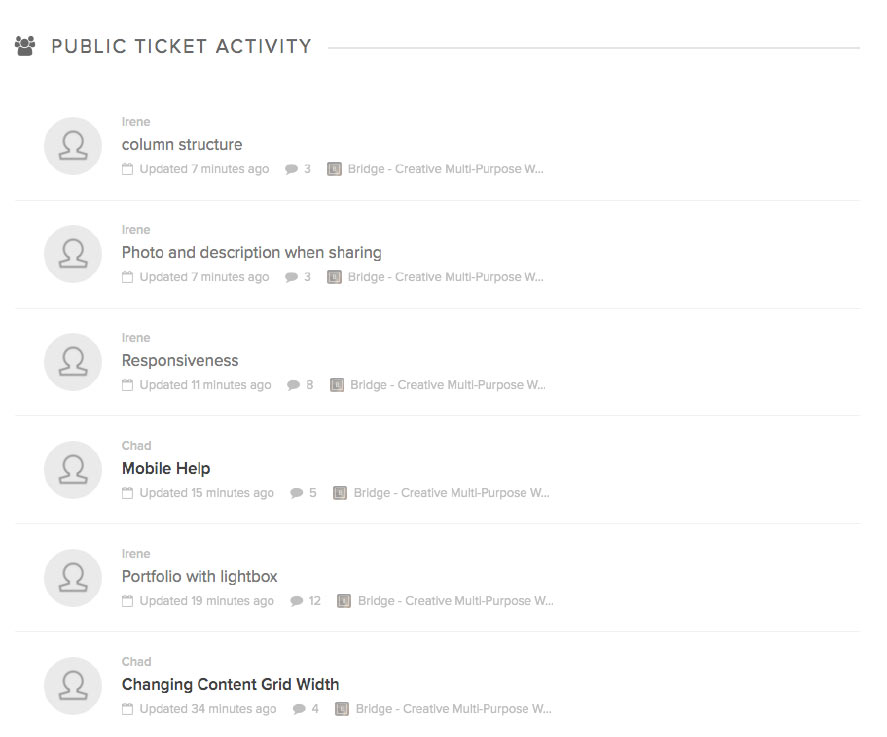 Security
The biggest disadvantage of free WordPress themes is their security vulnerability. The source code of CMS Wordpress and the free theme itself is available for everyone, including hackers. They can easily penetrate free themes and check them for vulnerabilities. If there are any, they hack such websites.
Why do they do it?
There are plenty of reasons for that, and the most frequent one is sending out spam from your server to a tremendous number of recipients. Hackers will add clone URLs to your site (e.g. bank or PayPal) for their nefarious purposes like phishing. Then they'll send you emails on behalf of the authoritative sources asking you to enter personal information, which is then emailed to them. The attachment or link within the email will redirect to that clone URL on your server without your acknowledgement until your website gets blocked by your hosting provider.
How do you know if your theme is vulnerable?
Make sure your theme developer has a free access forum on his website where other developers share fixed files whenever they find any vulnerabilities.
Check for theme updates frequently and make sure you update when they become available, otherwise it is more likely you will be hacked.
Make sure the theme includes CAPTCHA Spam filter support, which will limit the ways the attacker can get in.
The rest depends on the right settings of your WordPress website:
- If you use admin account to log in to your website (which I'd not recommend your doing)
- If you use URL/wp-login/ or /wp-admin which is also a huge mistake (I'd recommend you change it to any other - the more specific it is, the better)
- If the folder /wp-content/uploads is accessible by everyone, then change the settings of this folder to "restricted" after you install the theme
- If your website has open registration (In case you have a corporate website for business, then you'd better close the registration for new users)
Premium themes
In case no free WordPress theme has met your requirements, you can definitely consider checking out more than 10,000 paid themes available on the Internet.
Obviously, there are two market leaders in the number of themes for Wordpress - Templatemonster.com (2000+ themes) and Themeforest.net (7000+ themes).
Of course, there are many other services like Mojo-themes.com (1200+ themes) and
Themesparrow.com (600+ themes) but I'd like to focus on the two main sources as I believe they sell high quality premium themes at reasonable prices.
So what is the difference between TemplateMonster and ThemeForest?
Template Monster
is a company with its main development center in Ukraine. It employs more than 400 people and all templates on its website are produced by its employees. Customer support is also provided by the people working in the company's office.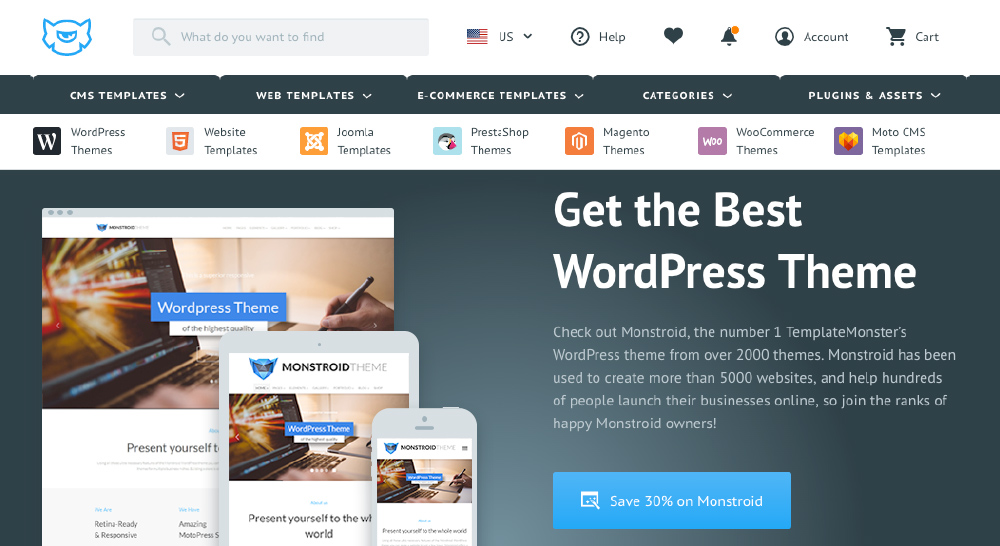 Envato (themeforest.net)
is a company located in Australia and has over 250 people working there.
Every template on ThemeForest is a theme created by third party web designers from all around the world. They upload their themes to Themeforest and get around 50-70% of every sale.
Any presale consultation or postsale support is provided directly by the theme authors while the ThemeForest team is responsible for website development, advertising and resolution of any disputes between sellers and buyers.
It is not that easy to become a seller on Envato meaning they have very strict theme requirements, which have become more and more complicated over the years. Thus, today, Envato is considered a world leader and authority regarding the quality of WordPress themes.
Envato's top themes are real web design constructions with almost unlimited functionality. You can build up to 10 different websites for any purposes by activating certain modules in one Envato theme.
Here are some great examples:
Salient - Multi-purpose WordPress Theme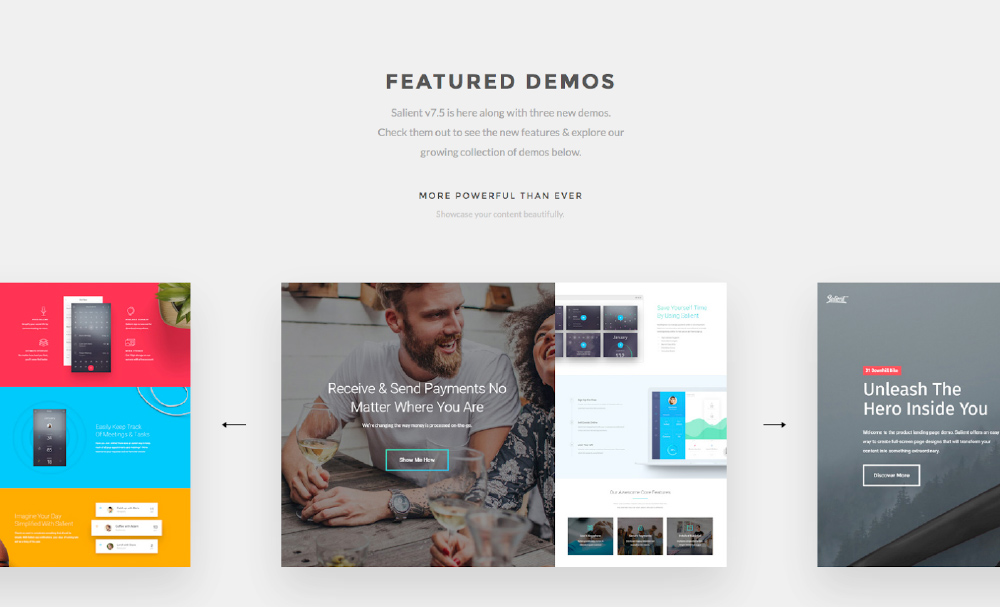 KLEO – Next level WordPress Theme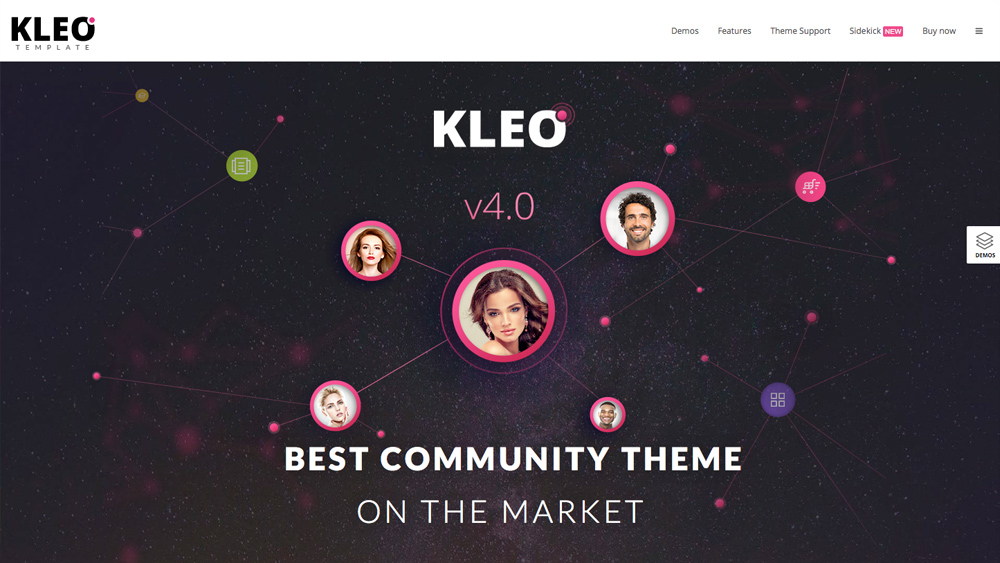 X | The Theme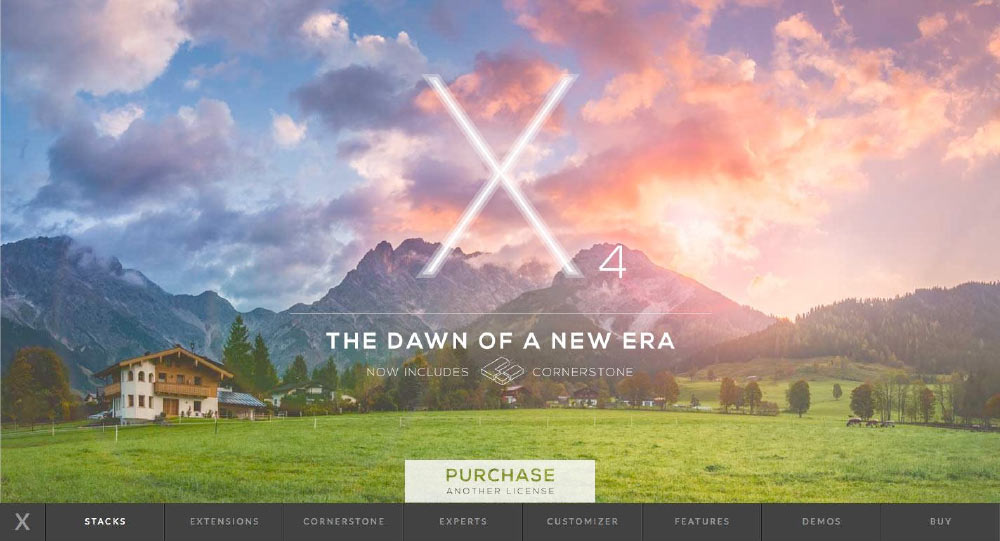 TemplateMonster also has themes like these; for example:
Monstroid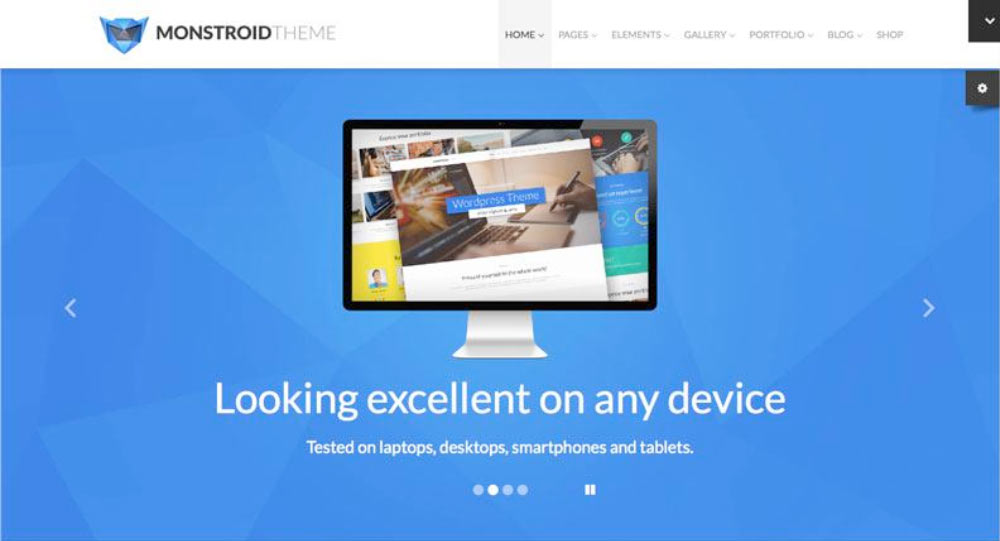 How does Envato search work?
It is definitely not the easiest task to find the most suitable item among 7000 available themes.
So be patient and take your time to look through at least the first 100.
Go to Themeforest and choose WordPress.
Then pick 4 star rating on the right and sort by Best sellers. Best sellers are usually the most good-looking themes with great functionality.
You can also filter themes by "Added: Last month" as the newest themes must meet even more strict requirements for design and quality, not to mention they are usually created in accordance with the latest design and usability trends.
Before you purchase the theme, I'd recommend you pay attention to the following factors:
- Number of sales/downloads - The most popular themes are usually the best ones (there are lots of new high quality themes as well but you still need to check the number of sales)
- Reviews and rating of both the theme and its author (it helps to determine the quality of support and the theme itself)
- Comments. Here you can ask questions before making your purchase and the author will reply to it as soon as he/she can. The faster the author gets back to you, the faster he/she will reply to postsale inquiries.
- Documentation and admin panel (look through detailed documentation and demo of admin panel - all good themes have it - to ensure everything suits your needs)
But there's one problem.
According to statistics only 3-4 out of 100 themes actually get installed, while the rest are simply forgotten.
Do you know why?
The majority of themes are made for professional web designers and developers with advanced skills in creating websites with CMS WordPress. If you are not proficient in web design, it will take you time and patience to install the theme on your own.
Note that you don't get an operational website by simply purchasing a theme! You are only provided with a set of tools for creating a website! It's like you want to buy a birdhouse, but what you get is a piece of plywood, set of nails, hammer and building instructions.
You can always read the documentation which is available for every theme. Some themes are even supplied with tutorials on the process of installation. But no matter how motivated and enthusiastic you are, you still need some technical background to do it properly.
In case you encounter problems with setting up your theme, you can order an installation service on special resources.
TemplateMonster will run the whole process for just $49.
ThemeForest has thousands of freelancers ready to help you on that subject (https://studio.envato.com). Their services would cost around $50 depending on the developer's experience and rating.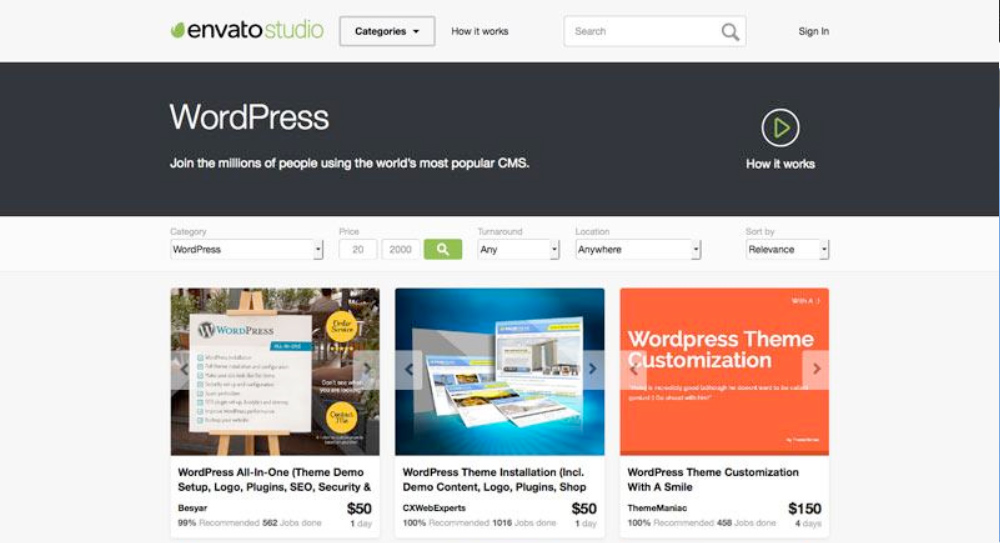 Keep in mind that this amount includes only basic theme installation for your website, meaning it will look exactly like it looks on the demo version. And it's not a running website yet!
To customize a theme according to your preferences you'll need another service which will cost you around $150 if ordering from Envato Studio.
Resumé
Good free themes are a rare phenomena and you could be really lucky if you find one of a decent quality and sufficient functionality. If your goal is a blog website with less than five pages, a free theme might be the right choice.
But if your business is about working closely with clients, gathering information about them or offering some particular services, then your website must meet all contemporary terms and conditions of the web design market today. Hence I'd recommend your purchasing a premium website template along with the installation services, if you're lacking technical skills. You will not regret this decision as your website will serve your business needs for years.
Finally, when it comes to creating a website "turnkey" with a paid theme, do not look for cheaper options as it will cost you much less than ordering the same services from dubious design studios where sometimes the quality leaves much to be desired.
All in all, if your website development budget is somewhere around $1000-2000 then running the whole process from purchasing a theme to customizing it with Envato or TemplateMonster is the best option for you.
That wraps up our list of the How to choose a suitable WordPress theme. Would you like other themes to be featured here? In that case, send us your comments — we'd love to hear from you!
Leave a comment
Disqus
facebook